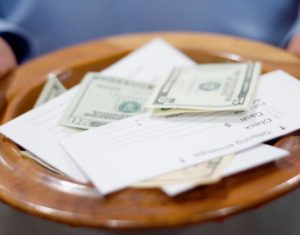 The tradition of charitable giving is as old as Lutheranism itself.  During the Reformation, Martin Luther called upon people to establish a "common chest" from which food, clothing and other necessities could be distributed to people in need.  
ONLINE
Giving Options:  We have several online ways to contribute to First Lutheran Church ministries.
*Online Giving at https://onrealm.org/FirstLutheranCh49566/give/now
*Text Giving is now available!  Text: FLC54843 to 73256  A link will be provided. Click the link to be directed to the online giving.
*Automatic withdrawal from your banking account. You may set the amount of your contribution, the date, the frequency.
Contact the office for more information.
FOR SPECIAL CONTRIBUTIONS: i.e. World Hunger, Lutheran World Relief, Malawi, etc., make checks to "First Lutheran Church" with a memo notation of what they are intended for. Please do not include these gifts in the same check with your regular Sunday offering. All financial records are kept in the strictest confidence at the church office.
Gifts to Habitat for Humanity and the Hayward Food Shelf can be given at First Lutheran but please make the checks payable to these organizations as these funds are not recorded in our financial records. The gifts are forwarded to the appropriate organization from the church office.